NEW DELHI: Judges will have to finally mind their language when it comes to women. 'Chaste woman', 'seductress', 'wanton woman'… all these and even more egregious examples of patriarchal stereotypes used for decades by judges in the country have been judged unacceptable – by the highest judicial authority.
The Supreme Court on Wednesday released a handbook meant to be used by the judges as a guide to gender-just language.
Judges will from now use 'unmarried woman', not 'spinster'; 'mistress' will be replaced by 'woman with whom a man has had romantic or sexual relations outside of marriage'; and the word 'prostitute' will be replaced with 'sex worker'. The handbook tells judges to use 'street sexual harassment' instead of 'eve teasing'.
Releasing the handbook, CJI D Y Chandrachud said, "It is vital that judges not only avoid relying on stereotypes in their decision making and writing, but also actively challenge and dispel harmful stereotypes. If harmful stereotypes are relied upon by judges, it can lead to distortion of the objective and impartial application of the law. This will perpetuate discrimination and exclusion."
The handbook, the draft of which was prepared by Justices Moushumi Bhattacharya of the Calcutta HC and Pratibha Singh of the Delhi HC and Professor Jhuma Sen, also discusses the newer issue of gender fluidity, incorporating terms championed by the LGBTQIA+ community.
Under the sub-chapter 'Understanding gender stereotypes', the handbook explains that while 'sex' refers to the biological attributes of individuals, 'gender' refers to socially constructed roles, behaviours, expressions and identities of girls, women, boys, men and gender diverse individuals.
"Gender identity is not limited to a binary (girl/woman and boy/man) but rather exists on a spectrum and can evolve over time. Further, gender is a social construct and includes norms, behaviours and roles associated with a particular gender identity," the handbook notes.
SC: Intent to show how stereotypes may unwittingly seep in
While the glossary primarily deals with stereotypes concerning men and women, it is important to recognise the harmful stereotypes that can exist with respect to any gender identity, according to the handbook.
On sexual assaults, the guide points to stereotype perceptions. In one example, it points to the caste-sexual assault dynamic. "Dominant caste men do not want to engage in sexual relations with women from oppressed castes. Therefore, any allegation of sexual assault or rape by an oppressed caste woman against a dominant caste man is false." But the reality, the guide says, is that "Rape and sexual violence have long been used as a tool of social control. Dominant caste men have historically used sexual violence as a tool to reinforce and maintain caste hierarchies."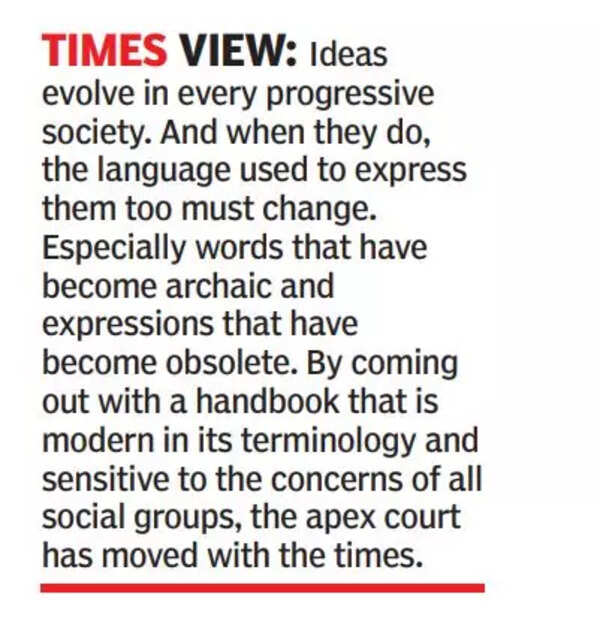 CJI Chandrachud, who guided and edited a two-year-long work involving wider consultation with experts and stakeholders, said, "The intention is not to criticise or cast doubt on past judgments but merely to show how stereotypes may unwittingly be employed… The handbook contains a glossary of gender-unjust terms and suggests alternative words or phrases which may be used while drafting pleadings as well as orders and judgments."


If you want to register your marriage in thane visit : https://courtmarriageregistration.co.in/court-marriage-registration-in-thane

Source link